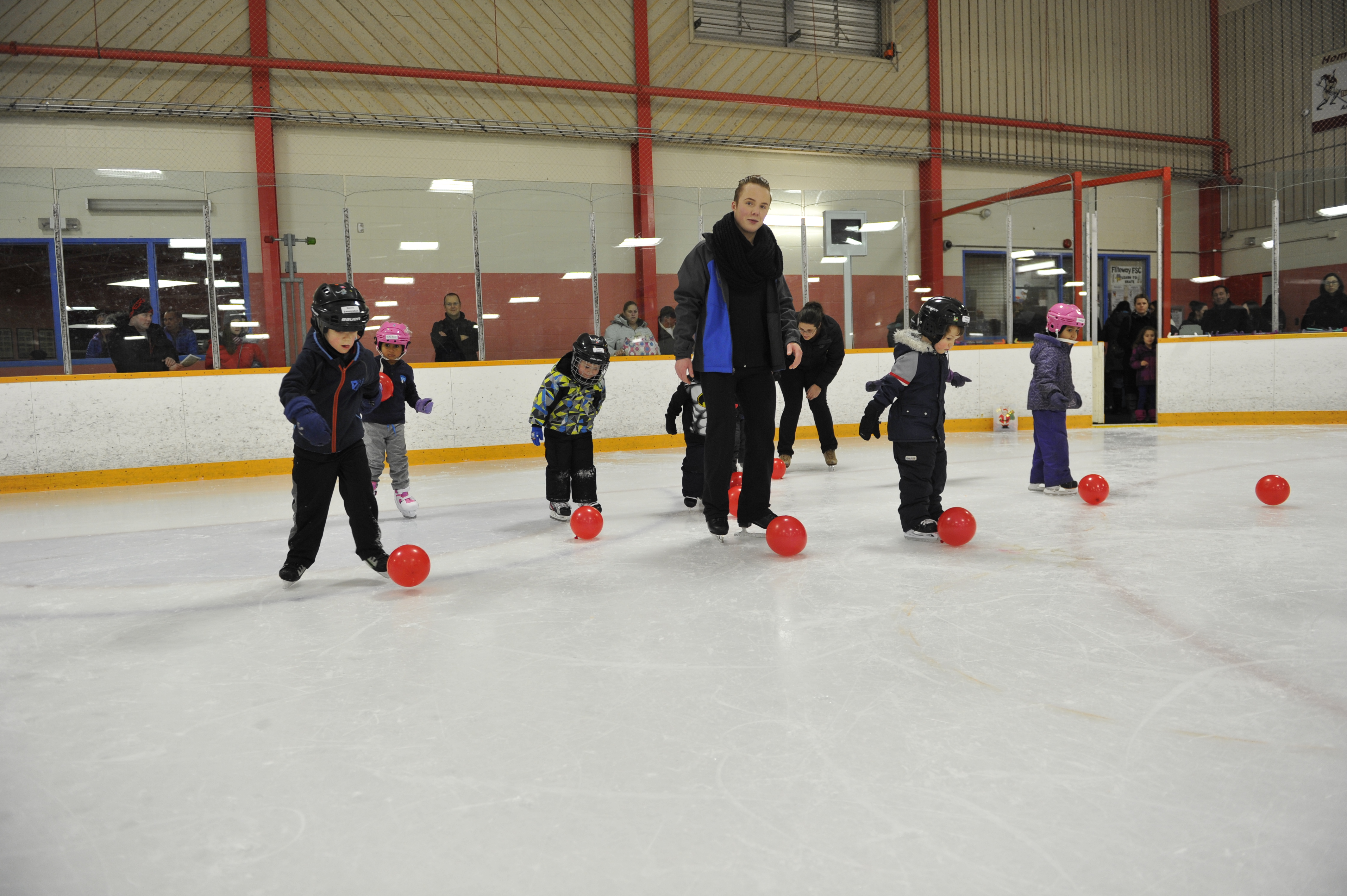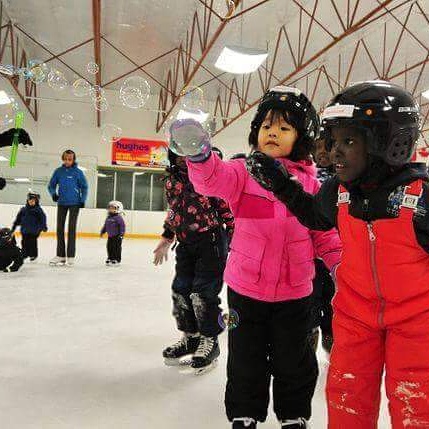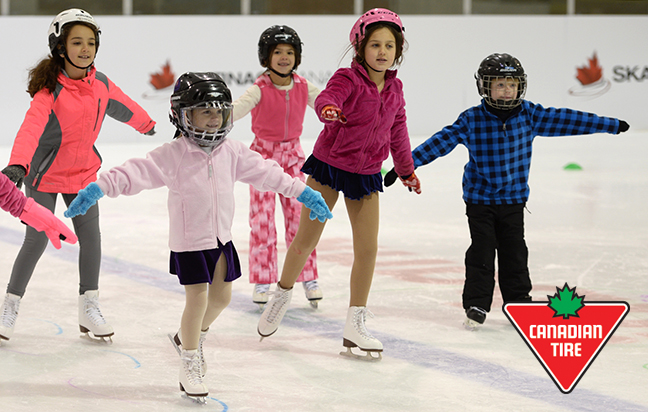 Learn To Skate (Pre-CanSkate & CanSkate)

COVID-19 Information
Due to COVID-19, at this time we are restricted from running programs that involve any hands on contact. This includes skaters who can't get-up or skate on their own. For the start of the season, we will be offering both Pre-CanSkate and CanSkate all under the CanSkate umbrella CanSkate will be for ages 3 and up who are able to skate independently. As soon as restrictions are lifted, we will be offering Pre-CanSkate for first time skaters, or skaters that require assistance while on the ice.
If your child is able skate on their own and get up without assistance, please register in CanSkate. Skaters that can only walk on the ice also qualify as long as they don't require assistance from a coach.
Pre-CanSkate Program (First Time Skaters/ Require Assistance Skating
At this time we are taking pre-registration for Pre-CanSkate Program. We will notify everyone as soon as restrictions are lifted, To pre-register, please fill in the registration form attached and email to infofliteway@gmail.com Limited numbers!
If you would like to register in person, please book an appointment by emailing infofliteway@gmail.com If you would like to register over the phone, please call 780-472-1810 and Michelle our office manager will return your call as soon as possible. At this time email is the best format for contacting the club.
Is CanSkate Safe when it comes to COVID-19
Fliteway has numerous safety protocols in place to ensure everyone has a positive, safe, learning experience. This includes:

Reduced class sizes

Coaches have to wear masks at all times

Daily screening

Hand sanitizing
liteway is a non-for-profit organization dedicated to providing skating opportunities to children of all ages, levels and abilities. Located in North Edmonton, Fliteway offers a wide range of programming and services to meet all your skating needs.
Pre-CanSkate (Ages 3 to 5 or first time skaters ages 6 to 9)
Pre-CanSkate is a learn to skate program for ages 3 to 5. Pre-CanSkate is designed to give skaters a positive first experience on the ice. Skaters learn through creative activities and teaching methods which are age appropriate. This program will focus on positive reinforcement, basic skating skills, and will prepare children for Fliteway's Skating Club CanSkate Program. All sessions (classes) include a 15 minute off-ice warm-up, and 30 minute on-ice instruction. Skaters will be placed in small groups according to age and skating level. Pre-CanSkate is also for children ages 6 to 8 who have never been on skates or ice before.
CanSkate (Ages 4 and up)
CanSkate is the Skate Canada flagship learn to skate program. Skaters must be able to skate independently to qualify for this program. CanSkate focuses on fun, participation, and basic skill development. All classes are taught in a group format and are led by an NCCP certified professional coach. Skaters progress at their own rate in a progressive, and sequential badge program. CanSkate is an excellent starting point for children interested in pursuing figure skating, hockey, ringette, speed skating, or just an interest in acquiring basic skating skills.
Note: Due to COVID-19, Pre-CanSkate and Canskate is combined for session #1 (September/October) Open to ages 3 and up that are able to skate and get up without assistance! Session #1 is a 45 minute on-ice class (no off-ice)
CanSkate/Pre-CanSkate Session #1 (September to October 2020)
| | | | | | | |
| --- | --- | --- | --- | --- | --- | --- |
| CanSkate #1 | Mondays | 6:30-7:15pm | Sept. 14,21,28 Oct. 5,19,26 | 6 Classes | $90 | GTA |
| CanSkate #2 | Tuesdays | 6:15 - 7:00pm | Sept. 8,15,22,29 Oct. 6,13,20,27 | 8 Classes | $120 | CDA |
| CanSkate #3 | Thursdays | 5:45 - 6:30pm | Sept. 10,17,24 Oct. 1,8,15,22,29 | 8 Classes | $120 | CDA |
| CanSkate #4 | Sundays | 12:00-12:45pm | Sept. 6,13,20,27 Oct. 4,11,18,25 | 8 Classes | $120 | GTA |
GTA=Grand Trunk Arena/ CD=Castle Downs Arena No Skating Dates: Oct. 12th and 31st
Pre-CanSkate Session #2 (November to December 2020) Tentative (Pre-Register)
| | | | | | | |
| --- | --- | --- | --- | --- | --- | --- |
| Pre-CanSkate #5 | Mondays | 6:30–7:15pm | Nov. 2,9,16,23,30 Dec. 7,14,21 | 8 Classes | $120 | GTA |
| Pre-CanSkate #6 | Tuesdays | 5:15-6:00pm | Nov. 3,10,17,24 Dec.1,8 | 6 Classes | $90 | CDA |
| Pre-CanSkate #7 | Tuesdays | 6:00-6:45pm | Nov. 3,10,17,24 Dec.1,8 | 6 Classes | $90 | CDA |
| Pre-CanSkate #8 | Thursdays | 5:15-6:00pm | Nov. 5,12,19,26 Dec. 3,10,17 | 7 Classes | $105 | CDA |
| Pre-CanSkate #9 | Thursdays | 5:45-6:30pm | Nov. 5,12,19,26 Dec. 3,10,17 | 7 Classes | $105 | CDA |
| Pre-CanSkate #10 | Saturdays | 12:15-1:00pm | Nov. 7,14,21,28, Dec. 6,13,20 | 7 Classes | $105 | GGA |
| Pre-CanSkate #11 | Sundays | 12:00-12:45pm | Nov. 1,8,15,22,29 Dec. 6,13,20 | 8 Classes | $120 | GTA |
GTA=Grand Trunk Arena / CDA= Castle Downs Arena / GGA=Glengarry Arena
Pre-CanSkate Session #3 (January to March 2021) Tentative (Pre-Register)
| | | | | | | |
| --- | --- | --- | --- | --- | --- | --- |
| Pre-CanSkate #12 | Mondays | 6:30-7:15pm | Jan. 4,11,18,25 Feb. 1,8,22 Mar. 1,8,15,29 | 12 Classes | $180 | GTA |
| Pre-CanSkate #13 | Tuesdays | 5:15-6:00pm | Jan. 5,12,19,25 Feb. 2,9,16,23 Mar. 2,9,16,23 | 12 Classes | $180 | CDA |
| Pre-CanSkate #14 | Tuesdays | 6:00-6:45pm | Jan. 5,12,19,25 Feb. 2,9,16,23 Mar. 2,9,16,23 | 12 Classes | $180 | CDA |
| Pre-CanSkate #15 | Thursdays | 5:15-6:00pm | Jan. 7,14,21,28 Feb. 4,11,18,25 Mar. 4,11,18,25 | 12 Classes | $180 | CDA |
| Pre-CanSkate #16 | Thursdays | 5:45-6:30pm | Jan. 7,14,21,28 Feb. 4,11,18,25 Mar. 4,11,18,25 | 12 Classes | $180 | CDA |
| Pre-Canskate #17 | Saturdays | 12:15-1:00pm | Jan. 2,9,16,23,30 Feb. 6,13,20,27 Mar. 6,13 | 11 Classes | $165 | GGA |
| Pre-CanSkate #18 | Sundays | 12:00-12:45pm | Jan. 3,10,17,24,31 Feb. 7,21,28 Mar. 7,14 | 10 Classes | $150 | GTA |
GTA=Grand Trunk Arena / CDA= Castle Downs Arena / GGA=Glengarry Arena
No Skating Dates: Feb. 14,15
Recommendations / Equipment

· We recommend that children have at least 1 skating experience prior to the first class

· Helmets MANDATORY! (Hockey style CSA approved)

· Requires sharpened skates with good ankle support

Long Term Athlete Development

· Skate 1 day per week Pre-CanSkate

· Skate 2 days per week CanSkate

· Skate 8-10 months per year

· Participate in a variety of activities including gymnastics, swimming, dance, team sports

· See LTAD Series1 for recommendations
Downloads
2020-2021 Learn To Skate Registration Package.pdf